ALBUQUERQUE -- In some New Mexico communities, folks have never heard of "ObamaCare." They don't know that the Affordable Care Act will take effect in 2014, and that they, too, may be eligible for free health services. "I'm amazed," says Kelsey Heilman of the New Mexico Center on Law and Poverty. "When you're talking to regular people on the street—particularly low-income people and particularly in communities of color—people just don't know that anything is changing."
Depending on the statistic you're looking at, New Mexico has somewhere between the fourth- and second-highest rate of uninsured residents, she says. More than 400,000 folks in this stretch of desert lack access to health care. That's about to change in a big way.
New Mexico is a large state, area-wise, and aside from a couple of metropolitan corridors, the population is spread far and wide. Not everyone has access to the Internet. Smaller towns might not have a local media source. These factors contribute to an information void in some parts of the state, even about basics like medical help.
But that's not the only struggle. "Part of the problem is the coverage of the Affordable Care Act has been so politicized," Heilman says. "It's been so hard to tell people: 'This is what's happening if you don't have insurance. And this is what's happening if you do have insurance.' That's the kind of info people want now."

The Basics

Early this year, New Mexico's Gov. Susana Martinez announced the state would expand Medicaid under the Affordable Care Act. The move, though unexpected from a conservative governor, will allow Medicaid to cover 170,000 more people in the state.
If you make about $15,000 per year (about equal to a full-time minimum-wage job) and you're single, or if your family of four takes in $32,000 per year, you'll be covered by Medicaid. No premiums, no cost sharing.
If you make more than that and don't have benefits from your job, you'll check out the state's health insurance exchange. You'll log onto the official online marketplace—not unlike Travelocity—and look for the best deal. Depending on your income level, you will pay part of the premium, and the federal government will pay the rest.
There is a fine for people who don't sign up for anything. It wouldn't apply to that first group, folks earning minimum wage for themselves or their families. And it wouldn't apply to Native Americans.
Everyone else would face an increasing penalty. In 2014, it would be $95 per uninsured person. In 2015, it would be $325. In 2016, it would be a steep $695. (Children count as half-people for the purposes of the fine.) The penalty kicks in if you go longer than three months without coverage, but it never costs more than the health insurance would.
Yes, there's an individual mandate. But as Heilman notes, the good news is that health care will reach so many more Americans. "If you or someone in your household is uninsured, you are probably going to be able to get coverage. You, at the end of this year, are going to have access to a health insurance option."
People can begin enrolling on Oct. 1.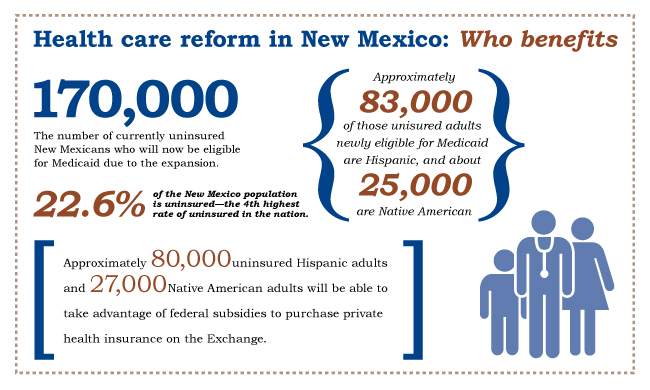 Better Living

Heilman has spent her time as a staff attorney with the Center on Law and Poverty working on health care issues, including access for immigrant families. Undocumented immigrants won't be covered (or fined) by the Affordable Care Act.
But immigration status plays a role in why today 40,000 New Mexico children who are already eligible for Medicaid aren't signed up. In Doña Ana County near the state's border with Mexico, many children are in families with mixed immigration status. Though the kids may reside in the U.S. lawfully, the process of obtaining Medicaid is intimidating for undocumented parents.
Sometimes, says Heilman, the state doesn't follow its own rules with respect to asking for Social Security numbers. "We continue to hear from families who've gone in to apply, are very clear that they're only there for the children, and the office will insist that they need a parent's Social Security number to process the application." The parents will get scared and leave, she says, even though those requests aren't lawful.
In other parts of New Mexico—the Four Corners area—the challenge is the rural nature of the state. "Getting access to insurance doesn't mean it's going to be easy for you to access a health care provider in your community."
Plus, the state has stopped doing outreach to enroll kids in Medicaid, she says. Instead, it's when children go to the hospital in an emergency that they're enrolled. "But we don't want kids getting just sick care," she says. "We want kids getting health care."
New Mexico will have to work to inform its residents of the big change headed down the pike. "It's really a whole new world," Heilman says. "For so long, it's been the case that whether or not you had money determined whether or not you could get health care in a real way. Almost everyone in New Mexico, 11 months from now, is going to have access to a coverage option."
Marisa Demarco is a journalist in the desert and a co-founder of online news outlet the New Mexico Compass. This story was written as part of a series of press briefings with ethnic media that New America Media has been conducting in seven cities in the country this year. This project is funded by the Atlantic Philanthropies.